Band History
Sarasota Concert Band … Our Heritage Begins With John Ringling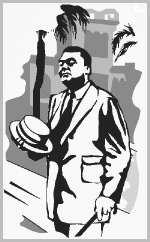 Our heritage begins with John Ringling as the successor organization to the Czecho-Slovakian National Band which he brought to the community in 1925.
We know this from the plaque in St. Armand's Circle that names our group as the first element to be established in his quest for making Sarasota a city of "Seven Virtues" with Music as the first.
In 1954, the current structure was created by Arthur Rohr, a legend within the Sarasota arts community.  We began playing 10 to 12 free concerts per year, from November to May.  Over the years we've performed in a variety of locations … often to record crowds … and have expanded our season through July!
Our popularity? Examples of audience attendance includes such concerts as the Lido Beach Casino from 1957-1960, where there was standing room only. We started performing in the Ringling Museum Courtyard from 1960-65, attracting crowds of 6,000 to 8,000.  Those were free Sunday afternoon concerts.
In June, 1973, we began performing at the new Van Wezel Performing Arts Hall. That first year the Band presented a "Tribute to Merle Evans," which broke the attendance record at Van Wezel.
Under musical directors Tony Swain, and later Bill Pryun, the Band became truly professional, attracting top musicians, growing to as many as 90 members. The Fourth of July, however, was always a free concert at Van Wezel as part of our community's celebration of Independence Day.
Beginning in 1992, the Band commenced its summer season with a Memorial Day Concert at Phillippi Estate Park. This tradition has continued every year since, and the Memorial Day Observance Concert is now a major annual event, drawing as many as 3,000 attendees.

This tradition continues as we treasure the heritage and legacy of the Sarasota Concert Band.