Auditions
How would you like to join the Sarasota Concert Band?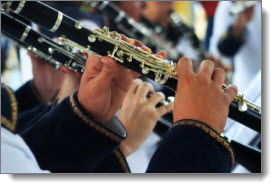 We are always open to auditioning new advanced-level players.  Please tell us your primary instrument, possible secondary and a brief summary of your background in an email to our Conductor, Bill Barbanera at bbmusicmix@gmail.com  He will arrange an audition. Or call him at 941-807-3846.
Another way to reach us is to attend one of our concerts.  Please come up and introduce yourself to our Artistic Director, William Barbanera.
Our Rehearsal Times and Location
Typically, we rehearse from 6:30 pm to 9:00 pm on Sunday and Thursday evenings two weeks before each concert.
We practice in the music room at Braden River High School in Bradenton near Caruso Road / 60th Street E and SR 70.  The address is:  6545 53rd Avenue East  Bradenton, FL 34203
Directions:  SR 70 to Caruso Rd / 60th street.  Turn North.  Entrance to school is on the right.  Park across from the main entrance.  Band room is on the left.